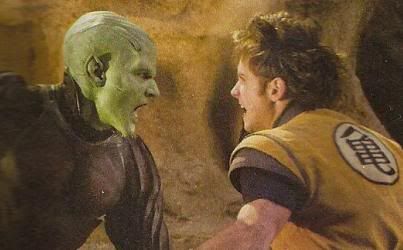 Primero que nada, decirles que la pelicula ha sido clasificada con "PG" que significa esto? que es necesario el Control de Padres Sugerido, por algún contenido que puede no ser apropiado para niños, en este caso por las intensas secuencias de acción y violencia y posibles palabras soeces. Asi que ya sabes, si tienes menos de 13 puedes ver la pelicula, pero acompañado por tus padres. En otro orden de cosas, tal parece que ya se esta trabajando en la secuela y que se llamaria: Dragonball Reborn.

Hablando con SciFiNow el mes pasado, el actor Justin Chatwin dijo que él estaba contratado para potenciales secuelas, y que estaba excitado al respecto "Si habrá secuelas, yo creo... bueno, sé que esto será realmente interesante, porque ellos ya tienen el segundo guión escrito" Cuando presionamos por detalles, Chatwin reveló un poco más sobre la dirección de este capítulo de la versión de esta franquicia "Es realmente genial. La segunda va más dentro del gran legado y la geneología de Dragon Ball. Esto va mas adentro de la serie real de DragonBall, la clase de mundo intergaláctico de DragonBall" finalizo.

Finalmente, te traemos la lista del Original Motion Picture Soundtrack de la pelicula, compuesto por Brian Tyler y que estara a la venta desde el 30 de marzo.






1. The Legend (1:13)
2. Dragonball Evolution (3:26)
3. Fulums (5:14)
4. Kaiou Samma (2:34)
5. Goku (3:09)
6. Gohan's Special Gift (:57)
7. Master Roshi (3:45)
8. The Journey Begins (0:5Cool
9. Lighting The Torches (2:44)
10. Vengeance (5:55)
11. Chasing Dragonballs (2:41)
12. Lord Piccolo (2:51)
13. Mai Vs Chi Chi (3:55)
14. A Higher Calling (2:03)
15. Body Work (1:26)
16. I Dream Of Chi Chi (:54)
17. Grime Vinyl (1:52)
18. Unwelcome Strangers (2:12)
19. Bulma And Yamcha (1:51)
20. Things To Come (1:42)
21. The Final Battle (6:20)
22. End Game (1:32)
23. Dragonball Evolution Main Titles (1:32)


DragonBall Evolution llega a los cines el 8 de abril.